Konkuk University (건국대학교) is a private university located in Seoul and Chungju. The university emphasizes technology and science majors and research. The International Summer Program (ISP) at Konkuk University is a four-week long summer program that provides a great opportunity for international students wishing to learn about and experience Korea and its culture. This program is suitable for students majoring in various fields and especially valuable to those having a general interest in Korea and/or Asia. Students can now utilize their summer vacation to gain an understanding of this vibrant region that is considered a global economic powerhouse and a gateway to the world.
>> Advantages
On-campus Housing
Variety of Courses offered in English (Transferrable Credits)
Small-sized Classes
Field Trips to Historical Places in Korea
Weekend Programs to enhance understanding of Korea
Strong Administrative Support from the Office of International Programs
(Orientation, Student Buddy System, etc.)
Building International Network
>> Schedule
>> How to Apply
All applicants must be capable of carrying on college-level work in English. All applicants should be currently enrolled in an accredited college or university. We strongly recommend students from certain countries to provide recent evidence that your spoken and written command of English is adequate for the program. This is to ensure that your academic progress is not hindered by language difficulties. The required evidence may take the form of one of the following:
– Substantial education (min. two years) conducted in English
– An English language qualification : minimum 80 in TOEFL iBT or 6.0 in IELTS
*Please consult with the study abroad advisor at your home institution to find out if you are required to provide any evidence for your English proficiency.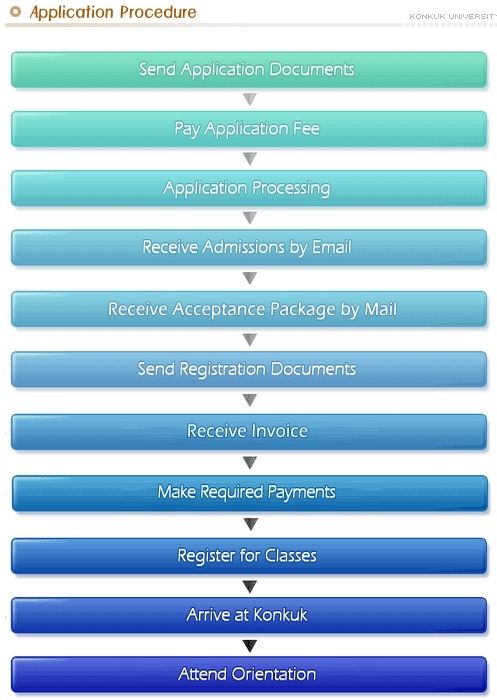 >> Required Documents for Application
Applicants must send the following documents by email (intl_programs@konkuk.ac.kr):
1. Completed Application Form ☜ Click to Download
2. Academic Transcript from Home University (in English)
3. One Passport Photograph
4. Copy of International Travel Insurance (i.e. covered in Korea)
5. Application Fee: KRW 100,000 (non-refundable / waived for exchange students)
6. Proof of English Proficiency, if needed
Application Deadline: May 31, 2015
※ The application fee must be wire-transferred to the account below with the name of the applicant along with the online application in order for the application to be processed. Please pay all transaction fees and make the full KRW 100,000 payment to Konkuk University account.
>> Fees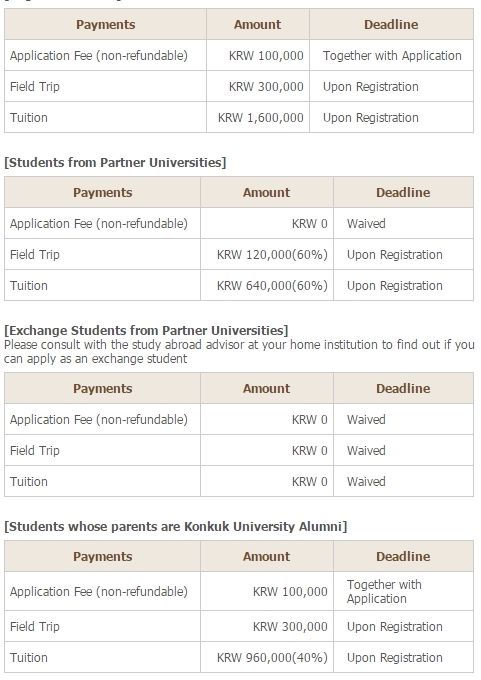 >> Contact
Office of International Programs
Konkuk University
120 Neungdong-ro, Gwangjin-gu, Seoul 143-701, Korea
Tel: +82-2-2049-6210
Official website : konkuk.ac.kr
※ All application documents must arrive at the Office of International Programs by May 31, 2015.
<
Acces the file directly here.