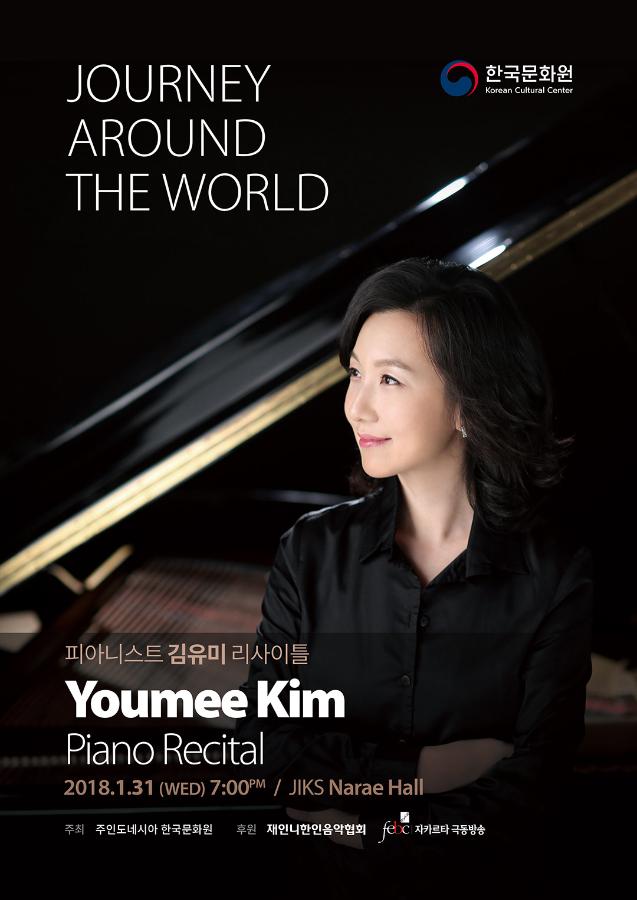 Journey Around The World, Youmee Kim Piano Recital
Korean Cultural Center Indonesia Mempersembahkan
"JOURNEY AROUND THE WORLD, Youmee Kim Piano Recital"
Sebuah Pertunjukan Resital Piano oleh Kim Youmee
(professor di Wright State University di Dayton, OH, USA).
Waktu: Rabu, 31 Januari 2018 (19.00-20.00) WIB
Tempat: Jakarta Indonesia Korean School (Narae Hall)
Alamat: Jl. Bina Marga No.24, RT.1/RW.5, Cipayung, Kota Jakarta Timur, DKI Jakarta 13840
FREE (Terbuka Untuk Umum, Tanpa Registrasi).
Info: Telepon (021) 2903 5650 (Ms Lee So Young)
E-Mail: info@kccindonesia.org (Subject: Youmee Kim Piano Recital)
감사합니다
– See more at: http://id.korean-culture.org/m/id/486/board/232/read/88008#sthash.u7jO9aLe.dpuf
별별스타 (Bintangnya Bintang) adalah ajang pencarian bakat yang digagas oleh Korean Cultural Center Indonesia pada 2017. Di ajang bakat ini, para peserta dapat menampilkan bakat apapun, namun tentu saja harus bertema atau berhubungan dengan Korea.
Dalam penyelenggaraan 별별스타 2017, bakat yang ditampilkan oleh peserta antara lain, tari tradisional Korea, memainkan alat musik tradisional Korea, Taekwondo, tari modern, dan lainnya. Tujuan dari ajang ini adalah mencari bakat yang Korea banget dari berbagai bidang. Hal yang juga menjadi bagian dari penilaian adalah keunikan dari bakat yang ditampilkan. Siapa pun boleh mengikuti audisi 별별스타.
Sebagai acara puncak, Final King of King 별별스타 akan digelar pada Juli 2018 di Jakarta. Para Juara 1 audisi 별별스타 dari berbagai kota akan diundang dan berkompetisi untuk memilih Juara Umum 별별스타.