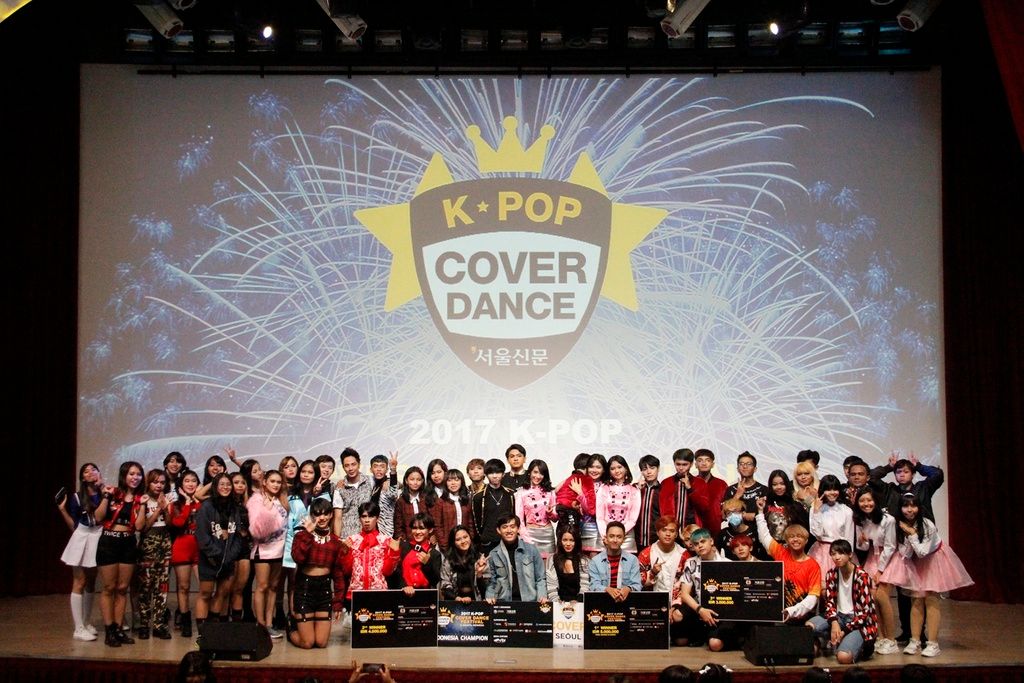 K-Pop Cover Dance Festival (KCDF), rangkaian kompetisi dance cover k-pop yang diikuti oleh berbagai negara, turut pula digelar di Indonesia. Korean Cultural Center Indonesia (KCCI), Embassy of the Republic of Korea dengan Seoul Newspaper menyelenggarakan babak final 2017 K-Pop Cover Dance Festival in Indonesia pada 29 April 2017 di The Ice Palace, Lotte Shopping Avenue, Jakarta. Sekitar 1.000 pencinta Korea dan K-Pop hadir dan meramaikan acara ini.
Dalam acara ini, grup cover dance asal Bandung 'A.C.E.S' dinobatkan sebagai juara pertama disusul oleh grup 'Poison' (Bandung) dan 'History Maker' (Malang). Sebagai pemenang, 'A.C.E.C' yang melakukan cover grup baru asal Korea 'K.A.R.D' akan berangkat ke Seoul, Korea pada 31 Mei – 6 Juni 2017 sebagai wakil Indonesia dan bertanding melawan grup cover dance K-Pop dari berbagai negara.
Kemeriahan 2017 KCDF dibuka dengan pertunjukan musik tradisional Korea, yang ditampilkan oleh grup Hanbapeh. Penonton pun disambut oleh Direktur Korean Cultural Center Indonesia Mr. Chun Youngpoung dan perwakilan dari Seoul Newspaper Mr. Song Kyung Sup. Direktur Korean Cultural Center Indonesia, Mr. Chun Youngpoung menyampaikan, ia sangat merasakan antusiasme pencinta K-Pop di Indonesia. KCCI akan menjadi sarana penyebar Hallyu lebih luas lagi agar makin dekat dengan para pencintanya.
Acara utama 2017 KCDF adalah penampilan dari 15 grup cover dance K-Pop yang berasal dari berbagai daerah seperti Jakarta, Bandung, Yogyakarta, dan Malang. Tak hanya kompetisi, 2017 KCDF juga menghadirkan beragam aktivitas bagi para pengunjung, yaitu booth promosi Olimpiade Musim Dingin PyeongChang 2018, photo wall 2017 KCDF, serta green screen photo zone dengan latar belakang pemandangan Korea. Melalui 2017 KCDF di Indonesia dapat disaksikan bahwa tingkat penampilan K-Pop cover dance dari Indonesia semakin baik.
Yuk, tunjukkan dukungan kamu kepada wakil Indonesia di Korea!