Perbaiki diri setiap hari 🙏🏻
Talk Talk Korea 2018 Contest has finally started!
[Talk Talk Korea 2018] contest has come back with more interesting subjects and stunning prizes!
This year's main topic is 'Find KOREA in your country'!
Come join the contest! We will wait for your awesome stories!
✓ Period: May 16 ~ June 28, 2018
✓ Subjects: K-Food, K-Beauty & Style, K-Music & Drama, Etc (Hanbok, Hangeul, Taekwondo, etc)
✓ Special Subject: Peace on the Korean peninsula
✓ Categories: Video, Webtoon, Photos, Graphic/Painting
✓ Prize
Grand prize: Invitation to Korea (5 Days & 4 Nights, 5 people)
Runner-up: Laptop, Tablet, Smartwatch, Bluetooth Earphone, Winner's signed CD
Learn more about the newly added subjects, categories, amazing prizes and many others on Talk Talk Korea 2018 Official Website!
▼2018 Talk Talk Korea Official Website▼
English
Chinese
French
Russian
Spanish
Good luck!

Himpunan Mahasiswa Koreanologi
Program Studi Bahasa dan Kebudayaan Korea Universitas Indonesia proudly presents:
"10th Korean Culture Day: Light Up Your Dreams"
Date : Saturday, June 30th 2018
Place : Balairung UI, Depok
More…
TOPIK atau 한국어능력시험 adalah tes kemampuan bahasa Korea yang perlu diambil oleh mahasiswa yang ingin studi ke Korea atau pekerja yang akan bertugas ke Korea. Tahun 2018, penyelenggaraan tes TOPIK akan diselenggarakan dua kali dengan jadwal sebegai berikut :
More…
Sebelum musim semi lewat, masih ada tempat yang cantik untuk menikmati bunga di Gyeonggi-do, yaitu The Garden of Morning Calm. Taman ini menyelenggarakan Spring-outing dan Spring Flower Festival pada More…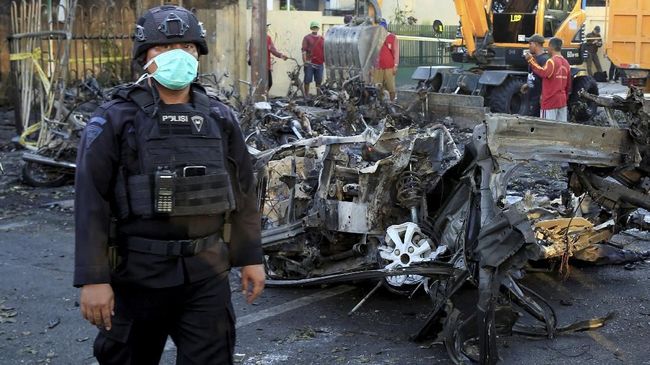 [Republic of Korea Ministry of Foreign Affairs]
-Spokesperson's Commentary on Terrorist Attack in Surabaya
Pemerintah Korea Selatan mengecam keras teror bom yang terjadi di gereja-gereja di Kota Surabaya, Indonesia pada Minggu pagi, 13 Mei 2018 waktu setempat. Pemerintah Korea Selatan menyampaikan bela sungkawa kepada para korban dan keluarga korban yang ditinggalkan dan semoga semua korban luka dapat segera pulih. Pemerintah Korea Selatan akan bergandengan tangan dengan masyarakat Indonesia dalam melawan terorisme, yakni teror-teror yang mengancam seluruh umat manusia.
Korean Cultural Center Indonesia kembali menyelenggarakan Final Audisi 별별스타 (Bintangnya Bintang) untuk wilayah Jawa Barat pada hari Sabtu, 12 Mei 2018 di MaxxBox Lippo Village, Tangerang yang menjadi salah satu sesi dalam Korea Festival in Tangerang. Diikuti oleh 7 peserta dari berbagai daerah di Jawa Barat, Syafira Maharani yang tampil memesona terpilih menjadi Juara Pertama ajang unjuk bakat Korea Banget yang digagas oleh KCC Indonesia ini.

" Korean Festival "
Tanggal: Sabtu, 19 Mei 2018
Waktu: 10-13 Mei 2018
Acara pembukaan : 10 Mei 2018, 14:00 WIB
Tempat: Main Atrium MaxxBox Lippo Village, Karawaci, Tangerang
Acara ini gratis dan terbuka untuk umum.
Grup 'Alien' dari Bandung yang meng-cover boyband Astro terpilih sebagai Juara 1 K-Pop Cover Dance Festival in Indonesia. Grup beranggotakan tujuh (7) pria ini akan menjadi wakil Indonesia di Final K-Pop Cover Dance Festival (KCDF) 2018 di Korea pada bulan Juni 2018.
'Road to 10th Korean Culture Day' berhasil digelar dua minggu berturut-turut pada dan 27 April dan 5 Mei 2018. Gelaran ini merupakan bagian dari rangkaian acara 'Korean Culture Day', festival Korea terbesar di Indonesia yang diselenggarakan oleh Hwarang, Himpunan Mahasiswa Koreanologi UI.  More…