Jadi min lagi duduk-duduk sambil mikir ide tulisan buat Saung Korea di pagi hari, hingga min dapet e-mail @beautytsc yang bilang mau ngirimin Etude House Moist Full Super Collagen Super Trial Kit. I tried some of Etude House products but never tried the Moist Full Series, so I'm very excited.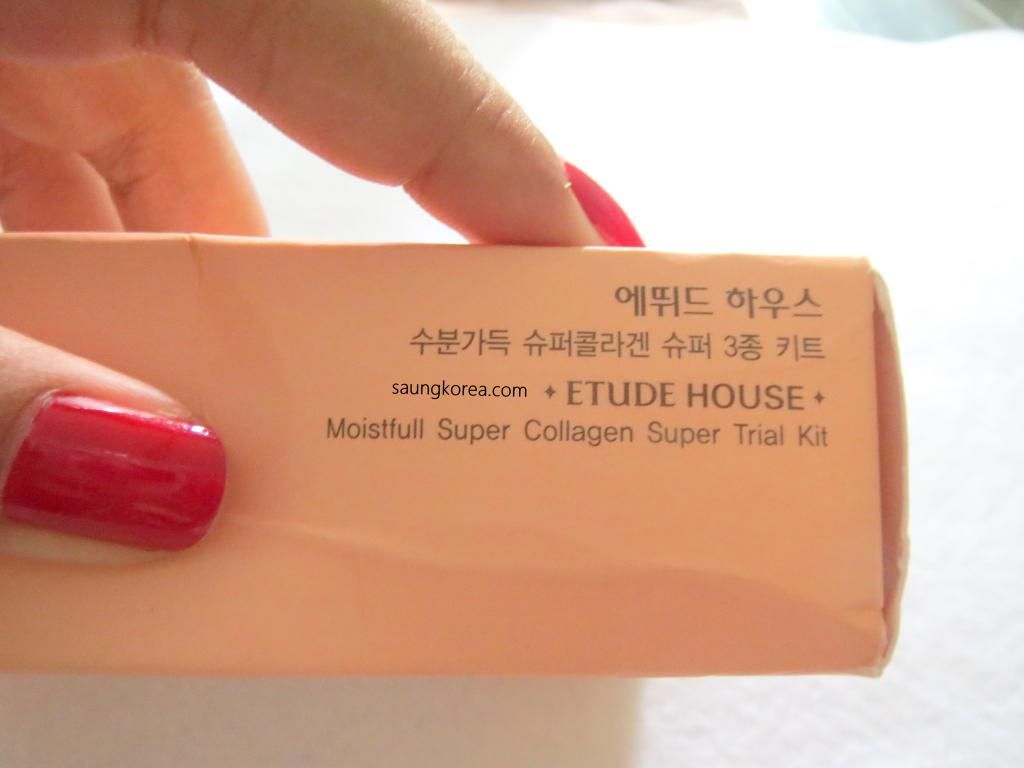 Sebelumnya min jelasin dulu ya..ada beberapa macam Kit yang 'dirilis' oleh Etude House. Ada yang kit (trial kit) yang isinya Ampoule Essence + CC Cream + Cream, ada juga kit yang isinya 4 item (yang ini biasanya skin care kit, alias bukan trial kit).   Nah kit yang min dapet isinya ini :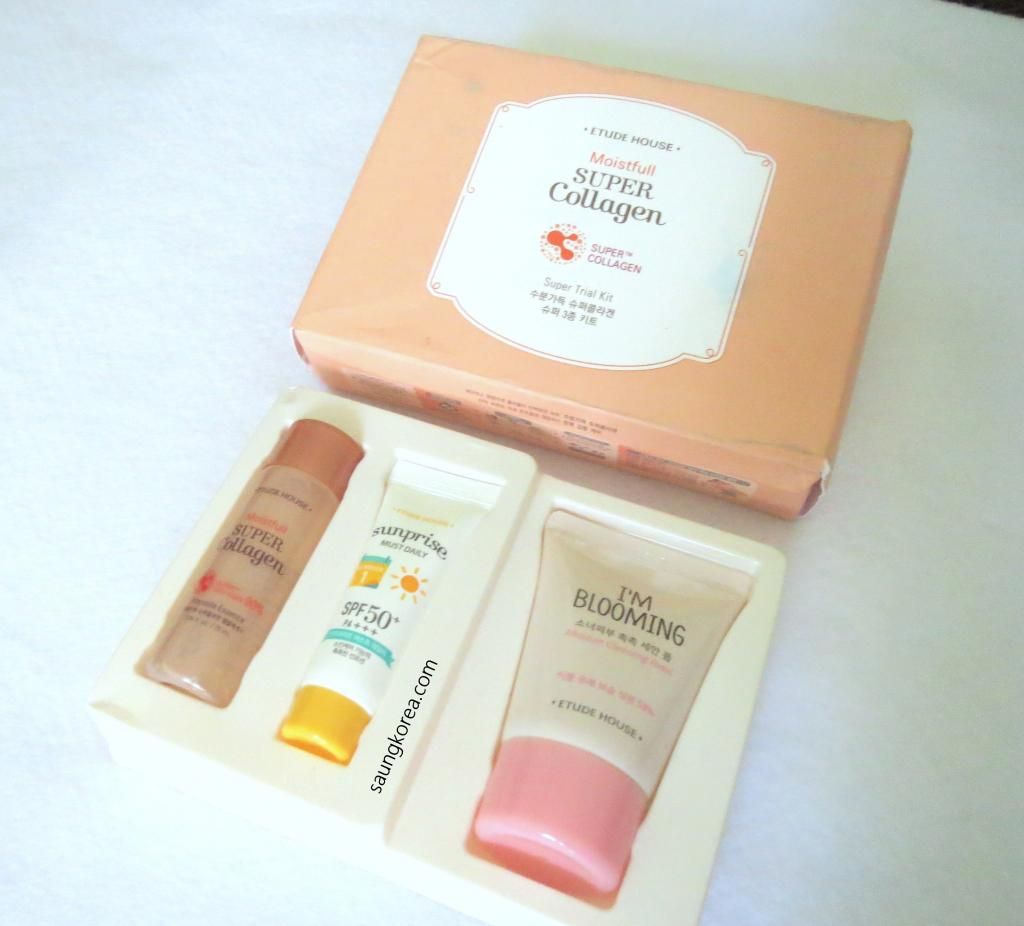 Min breakdown satu-satu ya. Yang pertama Super Collagen Ampoule Essence 25 ml. Jadi menurut keterangan resmi dari Etude tentang produk ini adalah : "This ampoule essence contains 90% Super Collagen TM of gel texture, providing firm and smooth skin with its collagen concentrate moistly absorbing into skin." 
Cara pakenya adalah tuang secukupnya ke tangan, terus usapkan ke wajah kamu dan pijat dengan lembut. Dan essence ini dipake buat perawatan awal, makanya disebut first step skin care. It's the first essence ever for me (it sounds funny that I almost said this everytime but it's true. I don't use skin care product or cosmetic that much, at least until I finished writing this post). Balik ke essence. Min biasanya pake ini setelah cuci muka.
Kesan pertama tentang produk ini adalah wanginya lembut, warnanya bening, teksturnya watery, nggak lengket. Dan rasanya adem kalo kamu pake ini abis cuci muka. Min pake ini selama seminggu berturut-turut dan lama-lama merasakan kalo produk ini bikin kulit lebih lembut. Soal kekencangan itu relatif dan min nggak punya alat untuk mengukur itu tapi memang rasanya kulit jadi lebih firm. Kalo dipake jangka panjang, min percaya kalo khasiat produk ini makin keliatan. Final judgement, produk ini memang oke.
 Yang kedua ada I'm Blooming Moisture Cleansing Foam :
Min udah pernah coba sampel versi sachet-nya dan ini versi yang lebih besar, 30ml. Klaim dari Etude House seperti ini : this moisturizing cleansing foam gently removes impurities with its fine bubbles, providing full hydration to skin right after cleansing without any signs of dryness. Intinya produk ini membersihkan sekaligus melembapkan wajah. Cara pakenya seperti  cleansing foam lainnya. Tuang, usap, bilas.
Secara umum fungsinya membersihkan oke. Kalo kamu habis dari luar rumah buat sekolah atau kuliah atau kerja, terus kamu pulang ke rumah dan cuci muka pake ini, minyak bakal hilang. Cuma min ngerasa produk ini bakal lebih sempurna kalo dilengkapi sama bau herbs yang wanginya lembut. Tapi mungkin ini keputusan Etude House menjaga citra produk ini sebagai produk alami karena 53% bahan cleansing foam-nya  berasal dari tanaman. Intinya, produk ini fine.
Dan yang terakhir ada Sunprise Must Daily Sun Lotion :
Jadi Sunprise ini adalah sun lotion yang bakal melindungi kamu dari sinar matahari. Etude punya beberapa seri Sunprise. Ada yang waterproof, natural corrector (yang bisa sekaligus dipake buat make-up base), dan yang min dapet ini namanya 'Daily Must', atau yang bisa dipakai sehari-hari setiap hari. Klaim Etude House tentang produk ini adalah : This is gel type sun lotion that feels moist without any stickiness. It provides double protection for skin with its VitaDmax ingredient that helps moisturize your skin.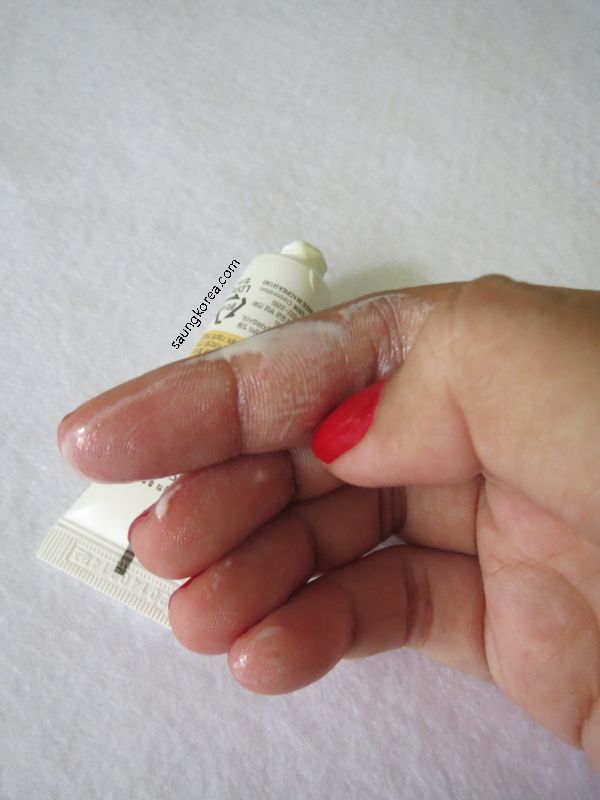 SPF minimum yang direkomendasikan biasanya adalah 15, dan produk ini punya SPF 50. Cara pakenya tinggal usapkan ke bagian yang mau kamu lindungi dari sinar matahari. Dan ternyata klaimnya Etude House bener banget. Bikin kulit kerasa lembut tapi nggak lengket. Pengalaman min sebelumnya pake sunscreen, teksturnya thick dan selalu lengket di kulit. Tapi yang satu ini nggak sama sekali. Baunya nggak berlebihan. Nggak terlalu menyengat buat sun lotion, tapi tetep punya bau yang wajar. And that's good. Final words, I'm satisfied.
So I have been excited to use these products out. Thanks @beautytsc for sending us this beautiful package. Check out their products on Instagram. They have K-pop related products which I'm pretty sure you would like it if you a big K-pop fan 🙂
Peace out!