International Work Camp in Gochang

| | |
| --- | --- |
| Registration Deadline | July 24, 2016 (15 Korean + 15 Foreigns Total 30 = first-served only) |
| Time " | from 1st to 10th of August (9 days-10 nights): If necessary, we will issue creative experience&activity certificate for you |
| Place | Gochang village, Jeollabuk-do, Korea |
| Details | International Volunteer Work Camp (harvest pepper, fishing, rafting, catching tidal clam, visit the World Heritage historical site |
| Recruiting | 30 (Korea and other nationalities) |
| Language | Don't have to be fluent in English or Japanese. Our staff who can speak Japanese or English will help your whole activities. |
| Cost | For 10 days 9 nights (From August 1st to August 10th) : KRW 690,000 |
| | You can join partially! From August 1st to August 5th(5 days 4 nights) / From August 6th to August 10th(5 days 4 nights)  |   Includes:accommodation and meals, transportation, cultural activities, drinks, snack. (for the whole 5 nights 6 days(or 9 nights 10 days) |
| |  For 5 days 4 nights (From August 1st to August 5th) : KRW 390,000 |
| |  For 5 days 4 nights (From August 6th to August 10th) : KRW 390,000 |
| More Information | workcamp.asia |
> ITINERARY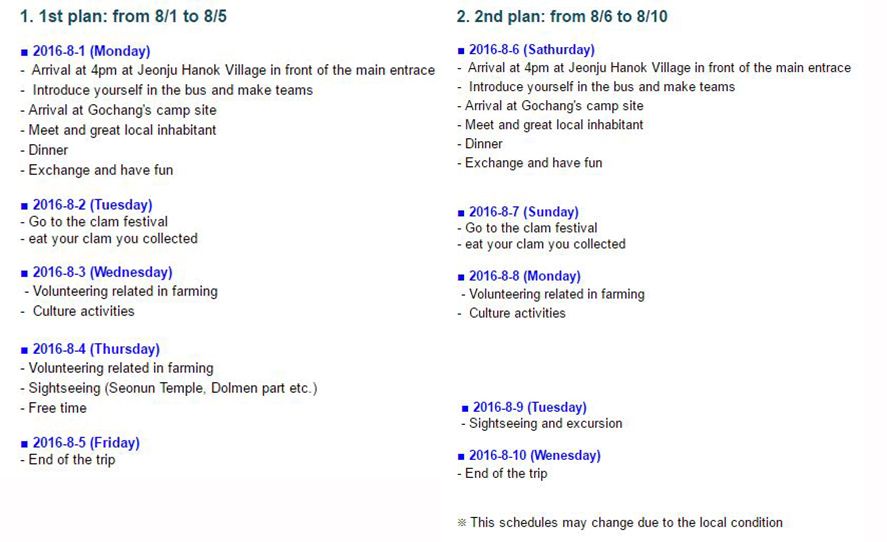 > PREPARATION
Toiletries: shampoo, soap, towels, toothpaste, toothbrush, underwear
Clothes: please bring enough extra clothes.
Shoes: shoes (no heels)
Medicine: If you have to bring specific medicine, it's ok to take them with you.
Camera: Don't have to prepare it! (our staff will take photos and send them for you by emails)
Else : pen & notebook
► Information about Korea Work Camp ◄
One of our staffs will always be together
All programs include a cultural exchange program, tours and volunteering
Minimum age of participants should be 16 years old
No special quaification is required. You have to be positive, open-minded, try to understand a different culture
An allowance for each participant have to be prepared by oneself
Participants are responsible for their insurance (check your insurance in case of emergency)
> NOTICE  ☆ ☆
We will proceed in the following order.
Fill out the form here for your registration
Our team will contact you by email (acopia[dot]world[at]gmail[dot]com) or KakaoTalk (ID: acopia)
We will send you the information
Participation fee is not refundable.
>> ABOUT ACOPIA
International Work Camp in Gochang is brought by Asia Hope Camp Group(ACOPIA).
Since 2011 we have focused on our efforts to a new project for international youth called Asia Hope Camp. Our slogan of this project is "Beyond natural disasters, to the world, to the future," and in cooperating with several other Japanese and Korean organizations, our organization has the following goals for the Asia Hope Camp.
World volunteer map; this project is created by Korean teenagers, showing volunteer opportunities around the world. Many teenagers in Korea have already expressed interests of this project.

Free exchange of ideas; we would like to increase our interactions with other international volunteer organizations in the world to facilitate information and culture exchange.

Breaking the barrier of misunderstanding by volunteering; this is not only about providing more opportunities for young Japanese and Koreans to interact and find common ground by working together, but also about helping poverty and damaged regions in Asia.
Furthermore, a peace in Asia cannot be accomplished by the will of Asian nations alone. We do not restrict any participants to those of Asian nationalities. All youth who wish to take a part will be welcomed, regardless of the country they are from.
We hope to take new steps in our mutual journey this year, and the future as well.