The CAU International Summer Program (ISP) is a hybrid program providing students with a window into Korea coupled with courses and cultural experiences that foster an understanding of Korean culture and society. CAU welcomes students from around the world to enjoy various courses covering Korean culture and society as well as earning major course credits from overseas professors specialized in Asia and Korea in subjects ranging from Business, Social Sciences, International Relations, and Korean Language. Courses will be offered by some of the top faculty at CAU, as well as from top universities from all over the world. Students will have numerous cultural and experiential activities diving right into Korean culture and making lasting friendships with fellow international students and local CAU students.Students will be able to choose the session they wish to take according to their home universities' academic calendar and the classes they want to take.
>> Academic Calendar
>> Qualification
1) All students who are currently enrolled at college or university level institutions 2) English proficiency for non-native speakers. (TOEFL is not required, however, Your English should be proficient enough to take courses conducted in English).
>> Application Materials
1) Completed application form (click
) 2) Official transcript from your university 3) One passport-size photo 4) Copy of passport 5) Official letter of nomination from home university (Students from partner institutions).
>> Application Procedure
1) Fill out and submit the online application form 2) Attach the application materials to the online system. 3) Receive confirmation email for application 4) Pay the application fee by wire transfer 5) Receive an invoice by email 6) Paying tuition fee in full 7) Receive a Letter of admission by email
>> Fees and Scholarship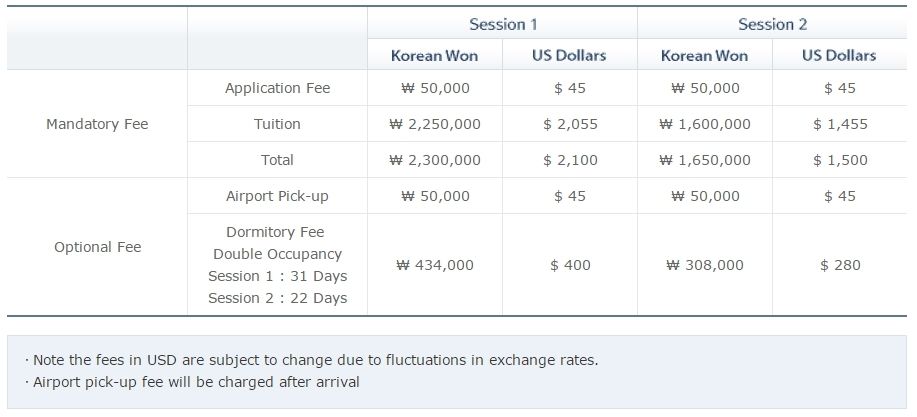 Dokumen di atas kurang jelas? Akses langsung file nya di sini.