Korean Cultural Center Indonesia bersama Korea Cultural Heritage Foundation dengan bangga mempersembahkan "2018 A Week of Intangible Korean Cultural Heritage". Terdiri dari tiga acara yang masuk dalam genre K-Exhibition, K-Performance, dan K-Food. Rangkaian acara "2018 A Week of Intangible Korean Cultural Heritage" adalah bagian dari Korea Festival 2018.
Rangkaian acara dibuka dengan pameran (K-Exhibition) "Properti Budaya Korea Tak Berwujud Imajinasi Musim Panas Korea". Berlangsung pada 26-29 Oktober 2018 di Korean Cultural Center Indonesia, Jakarta. Melalui pameran ini para pengunjung diajak untuk merasakan gaya hidup unik Korea, serta imajinasi tentang musim panas di Korea. Sebanyak 30 aset budaya yang indah, unik, dan bernilai seni akan diperlihatkan kepada masyarakat di Indonesia.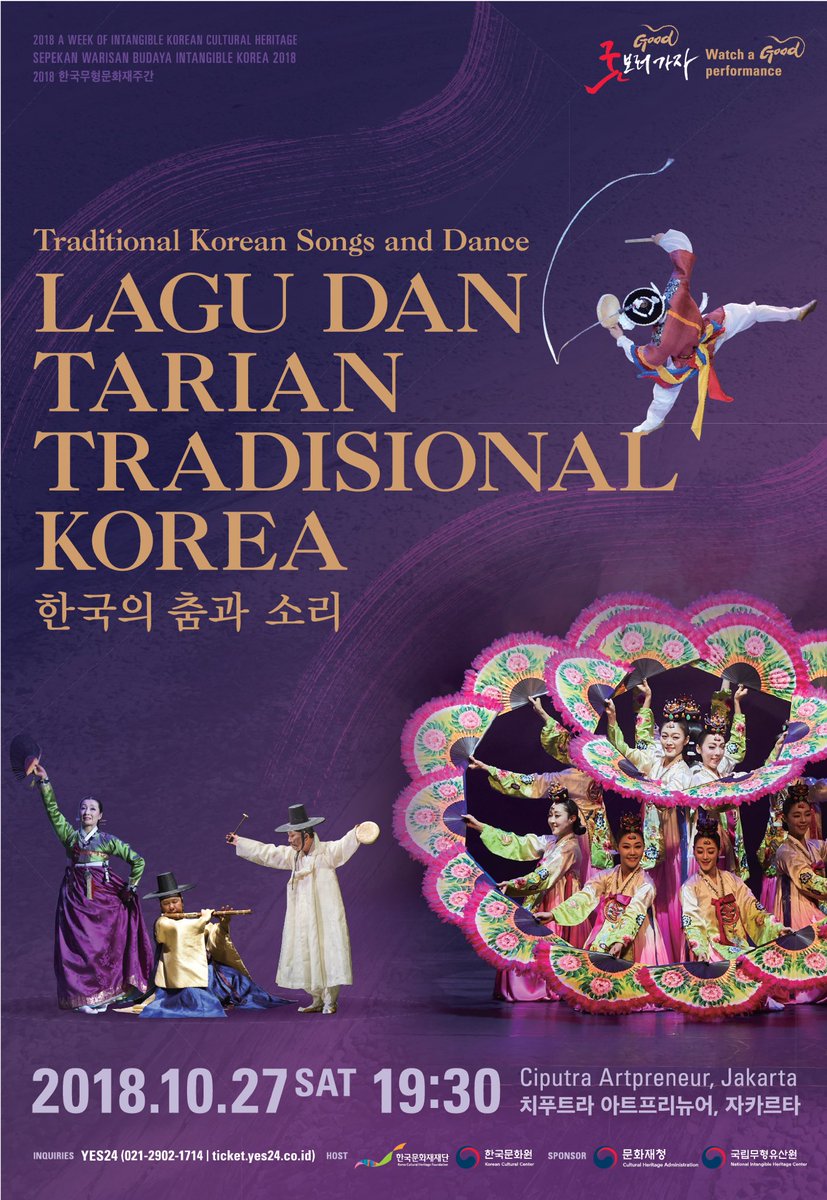 Bagian dari K-Performance, yaitu "Watch a GOOD Performance: Traditional Korean Songs and Dance" akan digelar pada Sabtu, 27 Oktober 2018 di Ciputra Artpreneur Theater, Lotte Shopping Avenue lantai 11, Jakarta. Pertunjukan ini akan menampilkan keragaman lagu dan tarian Korea yang dibawakan oleh penampil profesional dari Korea. Tak hanya itu, akan dibawakan juga lagu Indonesia, yaitu Bengawan Solo dan Jali-jali.
Pada bagian K-Food akan menghadirkan "Pertunjukan Memasak Masakan Tradisional dan Masakan Istana Korea". Acara yang akan berlangsung pada 28 & 29 Oktober 2018 di Korean Cultural Center dan Gran Melia Hotel ini menghadirkan Jeong Gil-ja. Jeong Gil-ja adalah tokoh yang dihormati dibidangnya, serta merupakan Master of No. 38 National Intangible Cultural Heritage Royal Culinary Art of Joseon.