Pohang University of Science and Technology or POSTECH is a private university located in Pohang, South Korea dedicated to research and education in science and technology. In 2012-2014, the Times Higher Education ranked POSTECH 1st in its "100 Under 50 Young Universities" rankings. POSTECH admits approximately 300 undergraduate students each year. POSTECH received 1,987 applicants for freshman admission and admitted 323 for the 2014 school year. POSTECH provides the highest educational investment and the most per-student scholarship support in Korea, allowing students from all economic backgrounds the opportunity to obtain a POSTECH education.

>  2015  ADMISSION  <
>>Admission Timeline

| | |
| --- | --- |
| Application & Payment of the Application Fee | September 9th(Wed) 2015 ~ September 11th(Fri) 2015 18:00 |
| Sending Admission Document | July 1st(Wed) 2015 ~ September 11th(Fri) 2015 |
| Announcement of 1st Selection (Based on submitted documents) | November 13th(Fri) 2015 |
| Interview and Oral exam (held in POSTECH) | November 21st(Sat) 2015 ~ November 23rd(Mon) 2015 |
| Announcement of Final Selection | December 8th(Tue) 2015 |
| Registration | December 15th(Tue) ~ December 22nd(Tue) 2015 |
>>Eligibility
Foreign students whose parents are both of foreign descent
Foreign students who completed more than 2 years of high school education overseas
Students who completed all courses (Elementary, Middle, and High School) overseas
>> Required Documents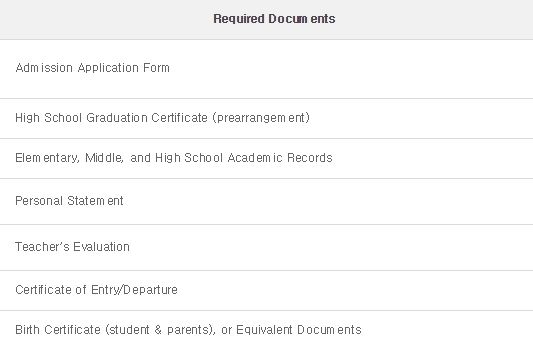 More info : 모집요강
>> Application Fee
Document Evaluation fee : 50,000 won
Interview and Oral Exam fee : 50,000 won (applicable only to students chosen in the first selection)
* Service fee 5,000won excluded
>> Notice
Students must apply to only one department.
Any document not in Korean or English should be attached with Korean translation.
All documents must be original. If students cannot submit originals, students must provide proof of originality from the issuing organization.
If identified as used illegal methods to gain admittance, the admission will be cancelled regardless of registration.
No further admission will be offered in the event of registration vacancies.
http://admission.postech.ac.kr/linkGsen.do?f=sub2-2
>> Document Appraisal
Based on comprehensive evaluation of high school record and submitted documents qualified applicants will be selected for Interview and Oral Exam.
>> Interview and Oral Exam
Evaluation criteria : Within Korean high school curriculum understanding of the curriculum, application for basic knowledge and making logical development will be assessed.
Interview Subjects : applicant's scientific passion, academic potential, Mathematical knowledge, etc.
* Foreign students will be tested on their Korean proficiency during Interview and Oral Exam.
>> For more, check : POSTECH Undergraduate Official Page